Marie Pampoen Die-ving center 2012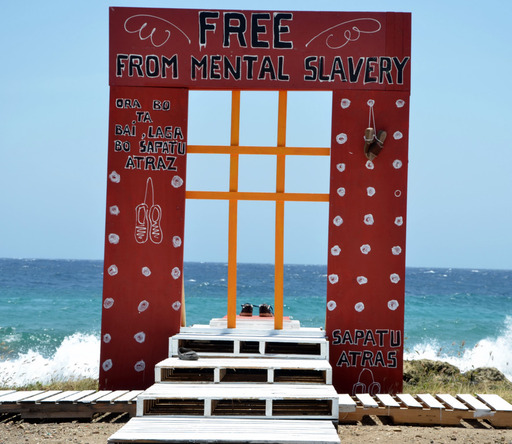 The Die- ving project is part of an international architect conference , with the participation of l' universite catholique de louvain la neuve Belgium , la universidad de san buenaventura de Medellin Columbia , urbam eafit de Medellin, Columbia the faculty of engineering of the University of the Netherlands Antilles , under the guidance of Supersudaca architect Sofia Saavedra Bruno , assossiate professor by the UNA .
Aside from the conference , A special workshop was conducted aiming at public spaces interventions .
The following installation , represents a very practical cultural , philosophical and spiritual enhancer .
An ancient slave belief on our Caribbean island , states that if you had not eaten Salt , you could jump the cliff and fly back to your origin . : Bula Banda , very much actual and needed today
The following comment from Brother Michael of Prashanti Nilayam , describes perfectly its mode of functionement
" Please enjoy this magical work of art from my mirror of light, Philippe Zanolino, and some of his fellow artists from Curacao. For me it represents many ideas, one being, that from all directions, we all come to the same Doorway of Transcendence. The plunge from the corporal into the ocean of spirit is how we die back into life- the moment when the we get either permanent or temporary freedom from the heaviness of having mind centered consciousness. Many of the near death experiencers describe their experience of leaving the body as seeing that the fabric and source of the universe is nothing other than pure God love energy. May His embrace be pure Amrita Bliss when you encounter Philippe's Die-ving Portal. "