Those pieces i do not consider them work of art .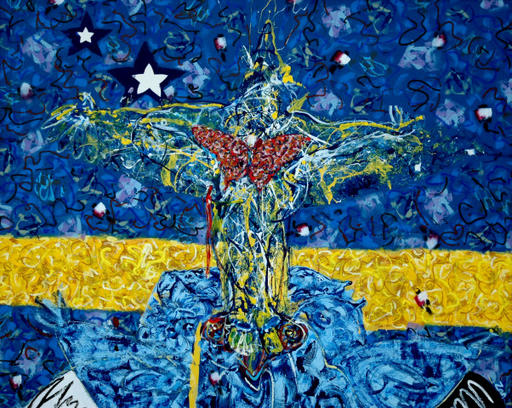 * Thoses pieces , i do not consider them works of art .They are miniatures of miracles , they are touches of enchantment of the supreme power , the One we all have inside but few can enjoy . Mr Jose M. Alvarez de la Campa . Critic with Balls , about the LOVE WARRIORS .
* His canvases are recurring pretexts to guide the new visitors to the profound paths of the soul . Joyfully , i heard various persons disserting and interpreting , each one at first, using the relative reality ( Appearences ) but soon getting lost in the tangibles frontiers when starting the descriptive voyage , and then embarking to navigate the beauty of speculation , with the determination of being able to discover that a more interesting universe exists within our conscioussness .Zanolino has created small bridges so that our sleepy Dwarf may wake up and take the first steps , thanx for awaking the small happy person that lives in me , and does not want to sleep no more , and that even now that it is disturbing my daily activities , it keeps me from the paranoia of continuously digging my tomb . Mr Jose M. Alvarez de la Campa . Cuban Art Critic with Balls , originally in spanish .
*Philippe Zanolino is another Curacaoan artist endowed with a strong personality . In the first place , his dynamic inner self prevents him from sticking to one sole discipline . He is basically a painter , but he also does sculpting and instalations . His vehemence transmits itself to his plastic world and he doesnot hesitate to apply the most phantasmagorical being always on the move .The following definition expressed by Zanolino himself seemed very true to us considering his work : ' Believe me , art is not a dream , neither a nightmare , but a Tyran that pushes one to work . ' He is a great worker and night and day he exorcizes his demons into his paintings , which are knowingly unrestrained , incredibly free as for their theme , form and implementation . From his work it becomes clear that he rejects all conventions , both in the field of chromatic and form . Destruction through fire , controlled by himself of course , forms part of the ardour of his creations . It is not surprising that he seeks collision of colours , that the strokes of his brushes are extremely vehement , that he gets carried away taking us along with him into a strange and dramatical pictorial universe . Concluding , his oeuvre is rough , tender and unpredictable , firmly iconoclastical and an intermediary toward unknown Idols . Mme Marianne de Tolentino . Art critic with Balls .President AICA ( Association internationale des critiques d,art .)
*' Of course now , you are expecting me to give you a clear cut analysis and expose of Philippe s oeuvre . Well , i will have to disappoint you . I am not . I am not going to talk about the incredible growth of Philippe as a visual artist I am not going to tell you about his intense spirituality that is drenched in his art I am not going to talk about his commitment to Art , that runs through his veins as a powerful elixir I am not going to tell you that his vibrant paintings speak directly to us I am not going to talk about his dense and intricate compositions in colour and line that reveal the mystery and creativity of life itself I am not going to tell you about the spiritual flow that enables him to produce his powerful and intriguing works of art I am not going to talk about the journey of experiencing his paintigns , which is so crucial to Philippe s work I am not going to tell you about the power of Love , that is so intertwined in his being and working as an artist I am really going to participate actively in the artistic process of the opening of this exhibit . Inspired by the surrealist movement and particularly by the french author Raymond Queneau , who wrote the very known philosophical poem ' exercices de style ' in 1947 , i am presenting to you this afternoon my own humble ' Exercise of style .' written and inspired by Philippe s work , based on my own commitment to Art and numerous intense conversations with Philippe in connection with his work and this exhibition . Before i start let me refresh your memory about surrealism . Surrealism was a movement at the beginning of the 20 th century , when visual artist and writers were opposing intellectual art movement . They worked from within , letting the flow of thoughts and associations erupt as they come .Assiociative exercises were one of their preferred modus operandi .. So here we go then :
Art is life Life is art Art is change Change is art Art is flow Flow is art Art changes life Life changes art Art flows into life Life flows into art Art changes flows Flows change life Art is experiencing Experiencing is art Art experiences life Life experiences art Flowing experiences change art Art changes flowing experiences Life is a flow , experiencing art Art is a flow experiencing life Life drenches into art Art drenches into life Life drenched experiences flow into art Art flows into life drenched experiences Life changes art drenched experiences Art changes life drenched experiences Art is here Here is art Life is here Here is life Art lives here Live arts here You are here Here are you Art is you You are art Art experiences you You experience art Art experiences change you You change art experiences Art is everywhere Everywhere is art Art flows into Villa Maria Villa Maria flows into art You flow into Villa Maria Villa Maria flows into you Art loves you You love art The universe is here Here is the universe Peace in the universe The universe in peace.
Jennifer Smit , Art historian , writer and art critic with balls for the opening of the exhibition ' Crucify the small i . ' in Villa Maria , Curacao .
* 'C'est pas mal Ca .' Mr Roberto Matta . Surrealist with Balls , about the sculptures ..
* 'C'est marrant ca .' Mr Roberto Matta . Surrealist with Balls , about the paintings .
* He is a painter and a sculptor .
No , he is an artist
And not a bad one .
Do not worry - You ll be an artist till the end .
Swami is the real Artist .
GOD
Verele Ghering-Engels in Amigoe Curacao - 20 oct 2014 - About " Slave of Love "
"In relation to the universe, a prerequisite of life for Philippe Zanolino"

One of the most important aspects of life, is the meeting of the "I" with "another, of the "I" with nature, the intensity of it. This contact leaves the deepest and most unforgettable traces on the soul of the other. This "tension" is a requisite for the artist. Without the intensity of tension, no artist creates work. The only real meeting we have with the artist is through his works. That's why expositions are so important. Saturday evening was the busily attended show opening of the exposition "Slave of Love" with paintings and sculptures by Philippe Zanolino. To help us get to know Philippe better, son and fellow artist Giovani Zanolino spoke wonderful words about him in the opening speech. We sacrifice a lot for conventions, this is also true when it comes to artworks. People want to know what the title is, what is it made of and what does it represent. But, "what's in a name"? It should speak without words, and this beautifully arranged exposition accomplished this with flying colours. I dare say it was Philippe Zanolino's best show yet. Philippe feels he is a translator of some higher force, of the universe. It is not that he wants something, but he must comply once the inspiration hits. The paintings compliment the sculptures perfectly. Everything fits, large and small, with orange, yellows, reds and grey shades, even the smaller works were rock solid. The process of making the sculptures is long and tedious. But it seems that the energy he puts in it, stays in it, because each and every one is a real piece of art. The combination of materials in his sculptures does something to you: Iron on mahogany, on top of rock on driftwood. "Smile" no.4 is an example of such a sculpture. Balanced and beautiful. Art is an imagination, Imagination from within the artist himself. Philippe tells us his story. He portrays what he feels and what he thinks, it is a combination of what he feels and what he thinks. Philippe holds on to the important convention, the one where the Artist is completely and utterly himself in the works. He doesn't copy, but creates, he doesn't depict but represents. He speaks his own language. He is filled with a sense of duty that finds its manifestation on canvas, in wood, stone or metal. He sees, feels and experiences, taking us along for the ride in this exposition. This cycle has a liberating effect which you feel when you walk into the Gallery Alma Blou. Also the digital works made by father and son give an extra dimension. Host, Lusette Verboom, asked the guests to write their dream down on a piece of paper to be attached to the "Dream Catcher" (sculpture made together with Rene Guillot), which was prominently showing on the back patio. This exhibition is like a dream come true, so beautiful. I hope that it may become a reality that all of you go experience. . Written by: Verele Ghering Translated by: Giovani Zanolino